Last week, I made the comment in my newsletter while talking about the Red Line Greenway opening in Cleveland that the city needs to do something about its "abysmal lakefront." I wrote that not from a place of scorn, but as someone who cares about the city and wants to see it reach closer towards fulfilling its potential.
A private sector proposal spearheaded by the Cleveland Browns ownership group hopes to do just that. The headline of the proposal is a park-like land bridge to extend Mall C over the eastbound Shoreway expressway and railroad tracks to connect to the area that contains First Energy Stadium, the Rock and Roll Hall of Fame, and the Great Lakes Science Center.
There seems to be chatter about the lakefront in Cleveland every few years. Just over the past two decades there have been the 2004 Waterfont District Plan, Cleveland's Downtown Lakefront Plan of 2012, and the Cleveland Lakefront Development plan of 2014. Hell, the Browns' ownership group even floated a different idea a decade ago.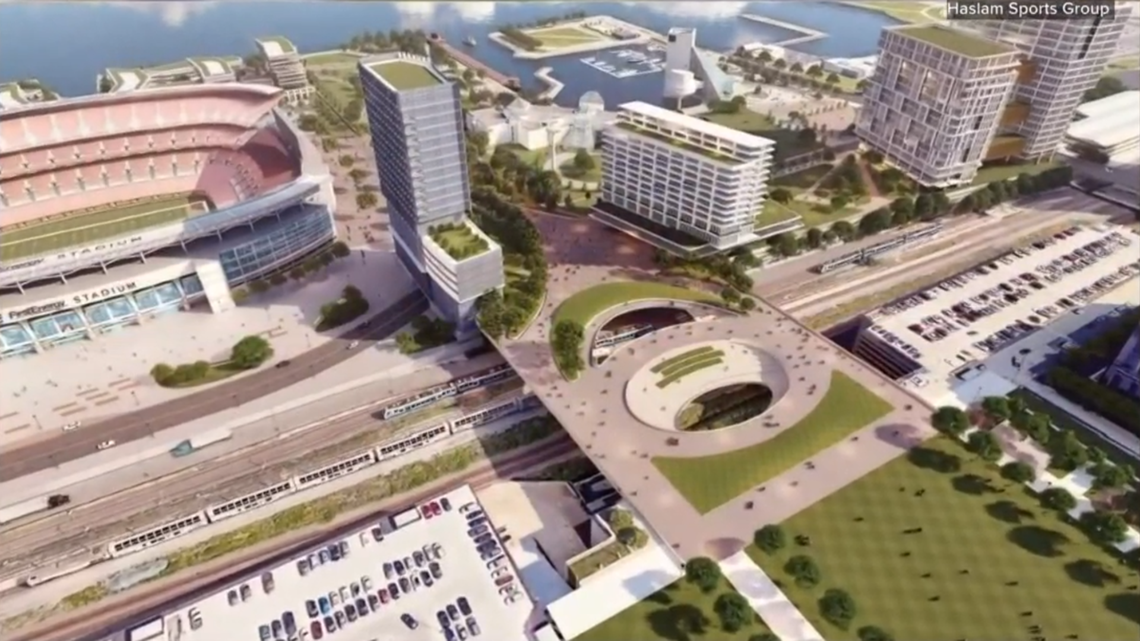 As the rendering shows, there are also new buildings and new greenspace in the area, which has long been begging for further development.
The keys, from my perspective, are two-fold:
Emphasize impactful public amenities. If the development doesn't serve the greater population of the region, if it focuses too much on private use and private control, it's a non-starter.
Increase affordable housing options, transit links, and job opportunities for those who are currently underserved. If the development is merely a playground for the wealthy, or a means to simply line the pockets of those whose pockets are already stuffed to capacity, it's not good enough for such prime real estate.
The lakefront is a chance for Cleveland to recapture its legacy of equity planning, to develop a place that is welcoming to all.
"How much public space does this add for regular Clevelanders?" Cleveland City Council President Kevin Kelley asked. "Are we making sure that this is open to the public, that people can use this bridge and that there are public spaces down around the stadium? I think if we do that, this can really be something that we support."
After having been thinking about all of this over the weekend, I then logged onto Twitter on Monday morning and came across this great video of waterfront space that seems to get the public/private balance right in North Vancouver:
This is of course just a single example of how to activate a waterfront. Any plans for Cleveland would need to be tailored to the city specifically. But, this is the kind of public/private space that could be transformative for Cleveland's lakefront. Paired with housing, greenspace, office space, and transit linkages, that could take things to another level.
Here's hoping that those involved with bringing plans to fruition have this kind of vision.